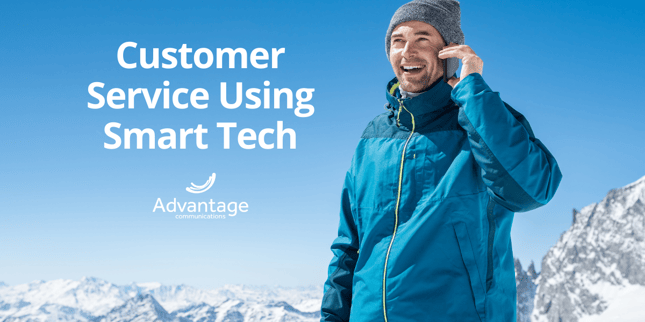 The be-all and end-all of your organization is customer service. Whether your business is customer facing or B2B, delivering a world-class customer experience (CX) is what will set your company up for future growth and increased profitability.
Finding ways to improve your customer service strategy, however, can be difficult. Many organizations don't have the resources, budget or investment necessary to implement a truly modernized in-house customer service program.
That's why many organizations are turning to next-generation outsourced call centers for help.
If this is a decision you are considering, then one of the most important aspects when selecting your customer service partner is to go with a company that makes the most of innovative contact center artificial intelligence (AI).
Here are four reasons why your company will significantly benefit from AI-powered customer service technologies:
1 - You can provide your customers with round-the-clock care
The presence of the internet means we now live in an "immediate" world. Customers want their questions answered as soon as they think of them, and they don't want to have to wait until your customer service representatives are back in the office.
Artificial intelligence tools will enable your company to offer 24/7 customer care, whether your customer service representatives are in the office or not. Tools such as chatbots can answer your questions no matter what time of the day, or day of the week it is.
2 - You can reach customers on their favourite device
AI technologies can be used to engage consumers across a range of devices, including cell phones, tablets, laptop and phone calls. With customers now expecting immediate engagement on any device they are using, artificial intelligence represents a fantastic way to boost your omni-channel strategy and reduce customer effort.
Conversational AI, whether it be through website channels or automated phone calls, will collect important information and use this data to either answer their question - or send the query on to the customer service representative who is best suited to answer it.
This streamlines the entire customer service experience, making life easier for the customer and also enhancing the internal processes of customer service agents.
3 - You'll limit human errors
Humans have a tendency to make errors. Not only that, but there is a chance that customer service representatives could grow frustrated at solving a task and give up or not make it into the office one day. AI technologies do not suffer from these issues. They are able to repeat the same jobs over and over, at the same level of quality.
By automating many of the manual, and quite simply boring, tasks that customer service representatives are assigned, AI helps customer service agents to focus on truly improving your customer experience.
4 - Enhance the customer service agent jobs
When people hear artificial intelligence they jump to conclusions. There are a large number of myths around AI driving people out of jobs. Artificial intelligence is not here to replace customer service representatives, it's here to enhance the work they do.
Technologies such as live call guidance and operational intelligence are fantastic AI tools that, when used correctly, will enhance your customer service representatives with in-the-moment feedback that improves their performance.
Want to learn how contact center artificial intelligence can enhance your customer service strategy? Contact Advantage communications today. Our team of AI technology experts would love to answer any of your questions.