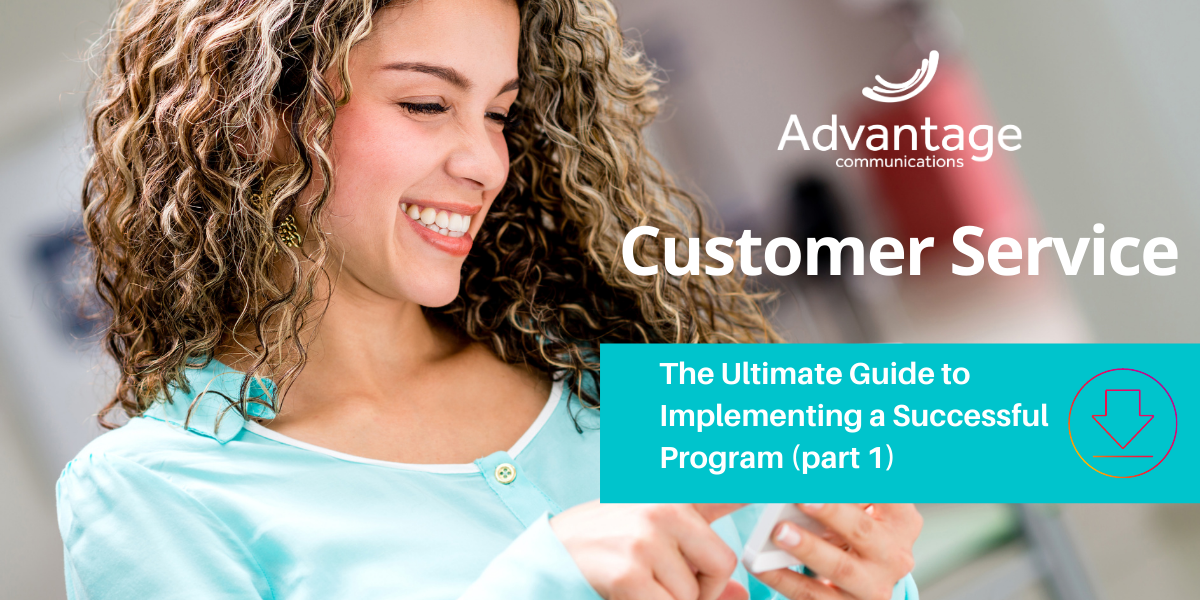 Customer service is the act of helping your customers before, during and after a purchase. This could involve solving an issue they are facing, educating them on how to correctly use a product or service, and answering any questions they may have.
In short, customer service is all about servicing the needs of your customers and enhancing the overall experience that they have with your organization or brand - improving customer satisfaction and creating loyal customers that purchase from your business for years to come.
With the quality of customer service now playing an increasingly important role in a company's success, it's crucial that your organization gets every single customer touchpoint right. That's no easy feat.
That's why, in the first of this two-part blog, Advantage Communications will be taking a closer look at why customer service is essential to your business, how it has progressed in the past few years and which types of customer service you can use to delight your customers.
In part two of this blog, which you can find at 'The Ultimate Guide to Implementing a Successful Customer Service Program (Part 2)' (coming soon), we will discuss why outsourcing your customer service program to an outsourced contact center will benefit your business and what factors you need to consider when choosing a contact center to partner with.
Why successful customer service is essential to your business
A successful customer service program is the foundation of any successful business. It's how your company delights its customers at every step of their buyer's journey. This allows your business to build loyal customers and open up new revenue streams for higher profits.
Here are a few statistics that show just how important a successful customer service strategy is for your business:
Where does the customer experience come into it?
Over the past few years, customer service has shifted significantly. Businesses are more competitive than they ever have been before, with virtually nothing distinguishing their products and services from others on the market.
The customer experience (CX) is now the differentiating factor between your organization and the next.
In fact, according to Gartner customer experience is the new marketing battlefront. The research firm's customer experience survey found that more than two-thirds of marketers responsible for CX say their companies compete mostly on the basis of CX.
The customer experience is the perception a customer has of your organization, from the very moment they discover you to your last point of contact. Everything your organization does contributes to the overall customer experience.
Customer service is now a crucial component of the customer experience, as there are a range of touchpoints that you can use to delight your customers, enhance their experience with your brand and provide them with the information they are looking for.
Types of customer service that boost your customer service and CX strategy
To create a superior customer experience and provide your customers with the answers they are looking for, on the devices they are using, there are a few different ways that your company can deliver customer service to its customers. Here are a few of the most popular options:
Phone - Phone interactions are the primary method for customer service queries. This generally involves customers calling a number where they are then able to speak with a customer service representative to have their query resolved. Customer service departments are increasingly using contact center artificial intelligence (AI) to initially speak to customers in an effort to route callers to the correct department.
Self-service - Self-service is a type of digital support that allows customers to use technology and your brand's website and social media channels to access information, learn about solutions and find the answers to their queries without having to contact a live customer service representative. This not only eases strain on your customer service team, it also enhances the customer experience.
Email - There are still a vast amount of customer service queries that are conducted via email channels, making it essential that your customer service department has a direct email address and that they are monitoring it regularly. Customers often prefer to send off a quick email and read the response as opposed to having to wait on hold while they are trying to get in touch with a customer service agent.
Live chat - Chatbots, which are computer programs that use AI technology to talk to customers through a chat window on your website, are able to create a back-and-forth dialogue that is similar to that of a human representative. Chatbots can be used to route customers to the correct department or answer questions where possible.
Have any further questions about building a customer service strategy that delights your customers and drives profits? Contact Advantage Communications today. Our team of customer experience experts would love to answer any questions that you may have.